Posted June 22, 2016
The Rotary Club of Pensacola celebrated its Change of Command Tuesday night at the Pensacola Yacht Club. Outgoing President Andrea Krieger reviewed the many successes of the past year
John Appleyard announced the Sandra Robinson Award and the Grover Robinson Award winners. The Sandra Robinson award is given to non-Rotarians to recognize outstanding contributions to the community and who embody the values of service over self. This year, the award was presented to Nancy Fetterman.
The Grover Robinson Award is presented annually to an active Rotarian who embodies the qualities of service. This year, Dr. Judy Bense was recognized.
After the passing of the president's pin, incoming president Brian Baumgardner was administered the oath of office and addressed the club with his thoughts and plans for the coming year.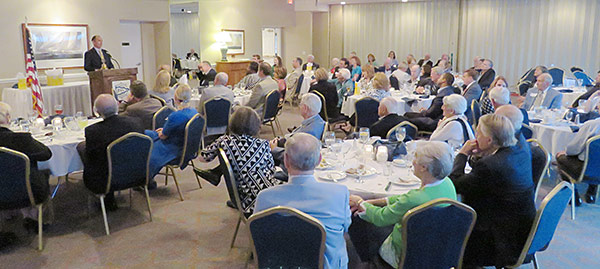 More Rotary News:
Posted February 6, 2019
Nominations are open for the 2019 Ethics in Business Awards. The Combined Rotary Clubs of Pensacola, along with the University of West Florida College of Business, established the Ethics in Business Awards to recognize business leaders who adhere to the high ethical standards in their business practices reflected in the Rotary Four-Way Test. Nominations must be received by March 29, 2019
Posted September 24, 2018
Rotary District Governor John Medina and Past District Governor Lisa Weeks visited The Rotary Club of Pensacola on Tuesday, September 18. It was an occasion to celebrate the good works of Rotary and recognize several members for outstanding contributions.
Posted July 20, 2018
The 2018 Grover Robinson III Award was presented to Brigadier General Michael L. Ferguson, U.S. Army Retired, and Sandra Robinson Award was presented to Maria Davis at the Club Change of Command Ceremony.
Club members recognized by the Greater Pensacola Chamber
Posted February 23, 2018
Several club members were recognized at the Greater Pensacola Chamber's 58th annual PACE Award on Wednesday. Janet Pilcher was named "Advocate Leader of the Year." Dr. Ed Ranelli was presented the "Leader in Education of the Year Award." General Michael Ferguson was awarded the "Pioneer Award" for his lifetime of devotion, achievement, and inspiration to the country and community. Also, Connie Bookman, wife of club member Alain Bookman, was named "Community Leader of the Year." Congratulations.